CUSTOMER CASE: Wagenborg
Royal Wagenborg modernizes business applications with the Thinkwise low-code platform
Royal Wagenborg, one of Europe's largest shipping companies, uses the Thinkwise lowcode platform to modernize its legacy ERP platform. This enables the family business to greatly optimize its operations and be ready for the future.
Royal Wagenborg is a shipping company, with a fleet of 170 ships and branches around the whole world, that ships various kinds of dry cargo for companies between North-West Europe, North America, and the Mediterranean.
Fill out the form to receive the full customer case, or read the highlights of our collaboration below.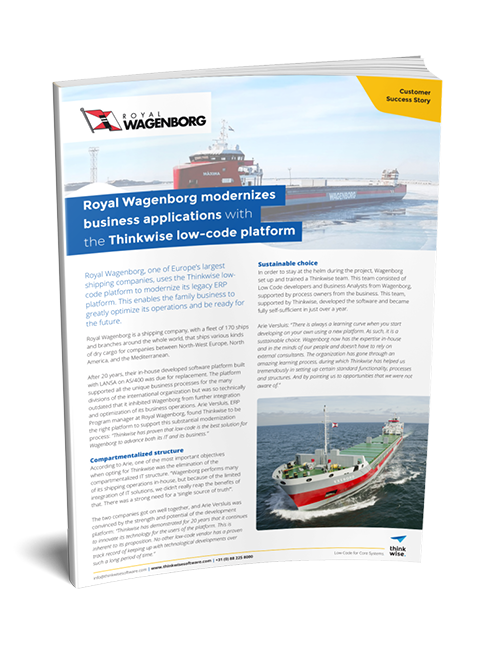 Thinkwise Universal GUI
Wagenborg decided to take advantage of theThinkwise Universal GUI from the start. This ensures that everyapplication developed with the platform is automatically availableon every device via the browser and as a Progressive Web App.
Sustainable choice
In order to stay at the helm during the project, Wagenborg set up and trained a Thinkwise team. This team consisted of Low Code developers and Business Analysts from Wagenborg,supported by process owners from the business. This team,supported by Thinkwise, developed the software and became fully self-sufficient in just over a year.
Scalable, secure and user friendly
To best meet Wagenborg's requirements, the Thinkwise Platform was deployed serverless on Amazon Web Services(AWS). This makes the platform automatically scalable,minimizes maintenance overhead and allows for easy integration with other AWS services, such as software interfaces and document storage.
The #1 low-code platform for core systems