CUSTOMER CASE: Antea Group
Antea Group delivers next generation low-code asset management software
Many software vendors are fully aware that their product becomes increasingly outdated due to changing technology or business requirements. The same thing happened to Antea Group, an internationally operating engineering and consulting firm.
To ensure that they no longer need to renew their software, the company has opted for the Thinkwise model-driven low-code software development platform. Using this platform Antea Group has developed its Public Space Management System (GBI – Gemeentelijk Beheer Informatiesysteem).
Fill out the form to receive the full customer case, or read the highlights of our collaboration below.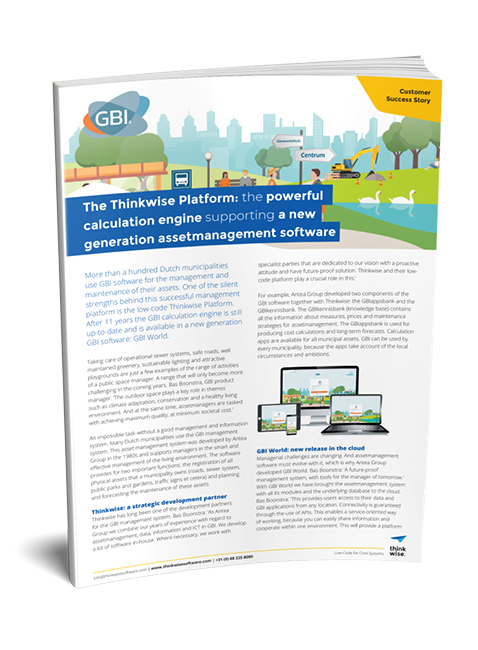 KEY TAKEAWAYS
Antea Group
Over 100 municipalities
More than a hundred Dutch municipalities use Antea Group's low-code GBI software suite for the management and maintenance of their assets.
Rapid transition to the cloud
Antea Group was able to easily migrate their application to the cloud since their application model was independent of the front-end technology.
Future-Proof
After 11 years the GBI calculation engine is still up-to-date and is now available in a new generation cloud software: GBI World
TESTIMONIALS
What Antea Group says about working with Thinkwise:
Software development has never been easy in the history of Antea Group. At first, we didn't believe the promise of Thinkwise either. But when they were able to show us an almost completely functional proof of concept after just two weeks, me and our management were soon convinced. In the pilot project, Thinkwise had already realized 80 percent of our wishes with their model-driven development platform.
"As Antea Group we combine our years of experience with regard to asset management, data, information, and ICT in GBI. We develop a lot of software in-house. Where necessary, we work with specialist parties that are dedicated to our vision with a proactive attitude and have a future-proof solution. Thinkwise and their low-code platform play a crucial role in this."
The #1 low-code platform for core systems