CUSTOMER CASE: Antea
Antea Group hoeft nooit meer software weg te gooien dankzij Thinkwise
Veel softwareleveranciers kennen het probleem dat hun product steeds veroudert door veranderende technologie of zakelijke eisen. Zo ook Antea Group, een internationaal opererend ingenieursen adviesbureau. Om hun software nooit meer te hoeven vernieuwen, koos het bedrijf voor het modelgedreven low-code softwareontwikkelplatform van Thinkwise. Hiermee ontwikkelt Antea Group zijn Gemeentelijk Beheer Informatiesysteem (GBI).
Vul het formulier in om de volledige klantencase te ontvangen, of lees hieronder de hoogtepunten van onze samenwerking.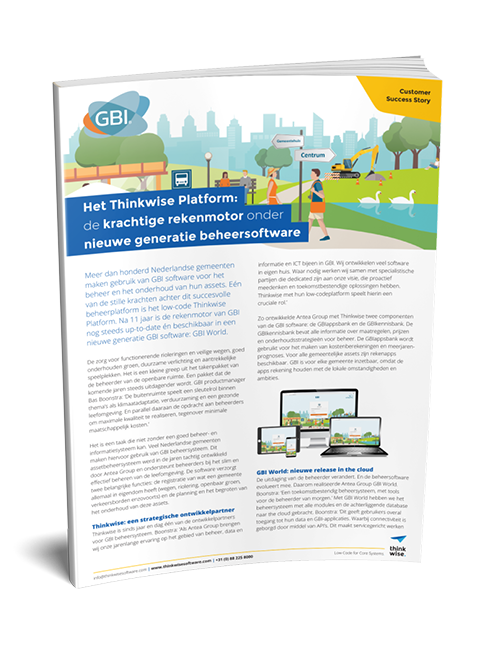 BELANGRIJKSTE CONCLUSIES
Antea
Modelgedreven
Door de combinatie van een modulaire opbouw van onze GBIapps en de modelgedreven ontwikkelmethodiek van Thinkwise zien alle user interfaces van GBI er hetzelfde uit.
Efficiënter
De manier van software ontwikkelen is veel efficiënter, wat GBI een mooie tijd- en kostenbesparing oplevert.
Gebruikersgemak
Omdat de ambtenaren de stappen die ze moeten zetten in de GBIapps eenvoudig herkennen ervaren ze veel gebruikersgemak.
TESTIMONIALS
Wat Antea zegt over de samenwerking met Thinkwise:
Thinkwise is een zeer correcte softwareontwikkelaar. Een voorwaarde bij de samenwerking was wel dat we vooraf heel duidelijk moesten zijn in onze vraagspecificering. Maar daardoor kregen we wel precies wat we hadden afgesproken. In de opgeleverde software zitten heel weinig fouten, waardoor we onze teststraat ook behoorlijk konden afslanken
Software ontwikkelen is in de geschiedenis van Antea Group nooit makkelijk geweest. Aanvankelijk geloofden we de belofte van Thinkwise ook niet. Maar toen ze ons al na twee weken een zo goed als volledig functioneel proof of concept konden laten zien, waren ik en onze directie al snel om. In het proefproject had Thinkwise al 80 procent van onze wensen gerealiseerd met hun modelgedreven ontwikkelplatform. Daarnaast werkt Thinkwise nauwkeurig en accuraat en dat zijn voor een softwarebouwer prettige eigenschappen.
Het #1 low-code platform voor core-systemen