CUSTOMER CASE: VDL
The international industrial
family business VDL fully replaced its custom RPG ERP within a year
Their 30-year old legacy self-developed ERP software was technologically obsolete and no longer suitable for future functional expansion.
VDL opted for Thinkwise to modernize their legacy ERP, integrate quality management and create an EDI engine. The new low-code ERP has since been rolled out to over 40 VDL companies.
Fill out the form to receive the full customer case, or read the highlights of our collaboration below.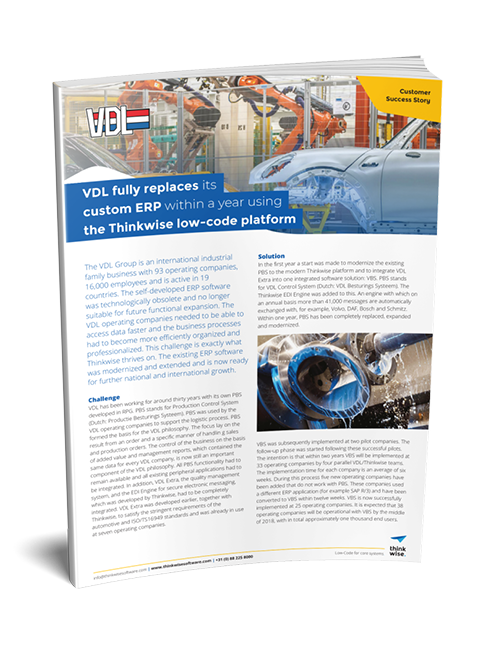 Complete low-code ERP
All departmental processes are fully integrated and automated. As a result, information isalways available in real time. Double data entry is a thing of the past. Integrated BI ensures that all strategic management information is fully accessible at all times.
Rapid Time-To-Market
Even though legacy functionality had to remain available and all existing peripheral applications had to be integrated, the legacy ERP has been completely replaced, expanded with quality management and EDI within one year.
Short implementations
The new low-code ERP was rolled out to the various VDL companies by parallel teams, with a turn-around time of six to twelve weeks per company.
TESTIMONIALS
What VDL says about working with Thinkwise:
The #1 low-code platform for core systems