CUSTOMER CASE: TRI
Thomas Regout International modernizes its business software with the Thinkwise enterprise low-code platform
Thomas Regout International is a global manufacturer of sliding solutions for various specialized applications, from armrests to conductors for industrial storage systems. After defining a renewed innovation policy, within which the company focused on industry automation and the development of a digital factory, they opted for the Thinkwise Platform to completely modernize their self-developed and outdated software. This ensures that the organization is ready for the future, with extensive opportunities for process automation and data analysis
Fill out the form to receive the full customer case, or read the highlights of our collaboration below.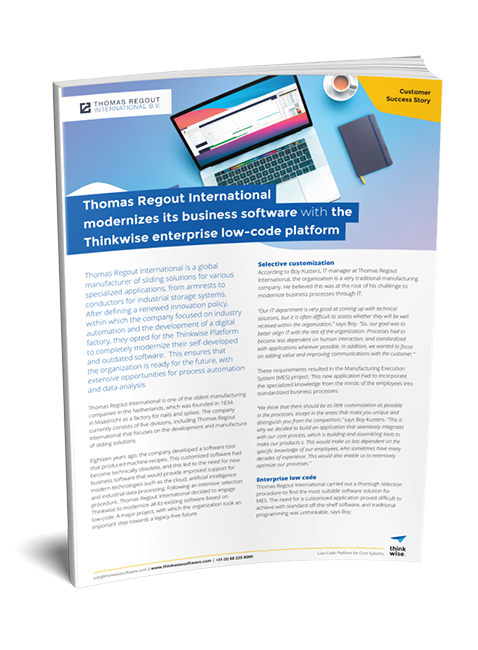 KEY TAKEAWAYS
Thomas Regout International
Flexibility
The Thinkwise enterprise low-code platform offered Thomas Regout International the flexibility to fully design their own GUI and processes, as well as a solid data foundation and extensive SQL functionality.
Scalability
The first process that was completed in Thinkwise, would subsequently serve as the blueprint for all production processes.
Automation
By automating the core process of assembling tools the entire process has become more accessible and more efficient. And it provides senior and middle management with accurate control information.
The #1 low-code platform for core systems