CUSTOMER CASE: Royal Saan
Royal Saan replaces legacy business software within a year with Thinkwise enterprise low-code platform
The logistics service provider, Royal Saan, relied on a self-developed ERP platform with four linked software packages for many years. The company selected Thinkwise to completely replace this software and integrate it using the low-code platform. This was accomplished in just ten months and resulted in flexible, modifiable software and drastically reduced costs.
Fill out the form to receive the full customer case, or read the highlights of our collaboration below.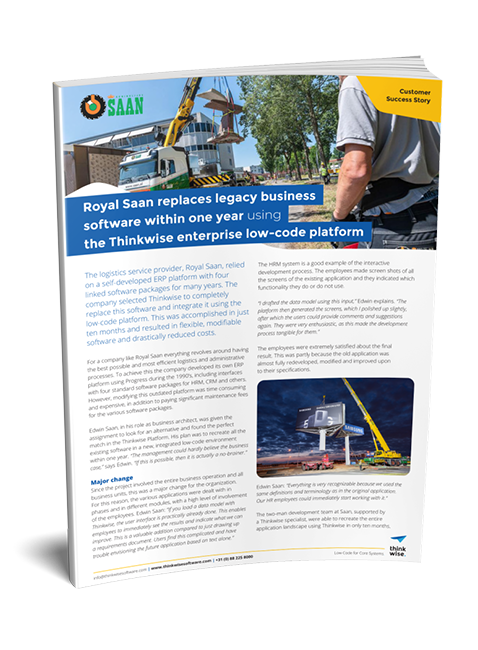 Automation
The entire process, from signing-off a receipt through to invoicing and the final administrative processing, is almost fully automated
One platform
The business software is now integrated in one platform.
100% usability
The business software only contains the functionality that is important. With Thinkwise you do not end up with a ginormous system.
Save costs
The new software saved tens of thousands of euros in costs every year.
TESTIMONIALS
What Royal Saan says about working with Thinkwise:
The management could hardly believe the business case," says Edwin. "If this is possible, then it is actually a no-brainer.
I have no programming knowledge myself, but even I have learned to work with this low-code platform. As a business architect, I used Thinkwise to create applications by myself faster than I could explain them to a programmer.
The #1 low-code platform for core systems