CUSTOMER CASE: Royal Saan
Royal Saan replaces legacy business software within a year with Thinkwise enterprise low-code platform
The logistics service provider, Royal Saan, relied on a self-developed ERP platform with four linked software packages for many years.
To reduce maintenance fees and improve integration within their IT landscape, Saan selected Thinkwise to completely replace its legacy software and integrate it using the low-code platform. This was accomplished in just ten months and resulted in flexible, modifiable software and drastically reduced costs.
Fill out the form to receive the full customer case, or read the highlights of our collaboration below.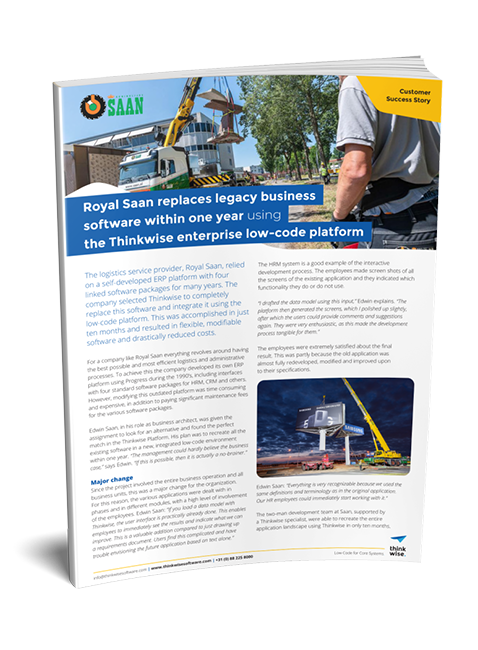 Full integration
All their business software is now integrated into one platform. Furthermore, it now only contains the functionality that is important to them.
Rapid Time-To-Market
The two-man development team at Saan, supported by a Thinkwise Specialist, was able to recreate the entire application landscape using Thinkwise in only ten months.
Scalability
After the first project was completed, a new warehouse management system was developed and implemented at a recently acquired logistics company in just 5 months.
The #1 low-code platform for core systems