CUSTOMER CASE: Niverplast
Thinkwise accelerates Niverplast's digital transformation
Thinkwise has developed new ERP software for Niverplast,the packaging specialist. The first implemented version is already producing major benefits. Among other things more efficient digital invoicing, limiting business risks, more insight into the logistics chain and time savings through automation.
Fill out the form to receive the full customer case, or read the highlights of our collaboration below.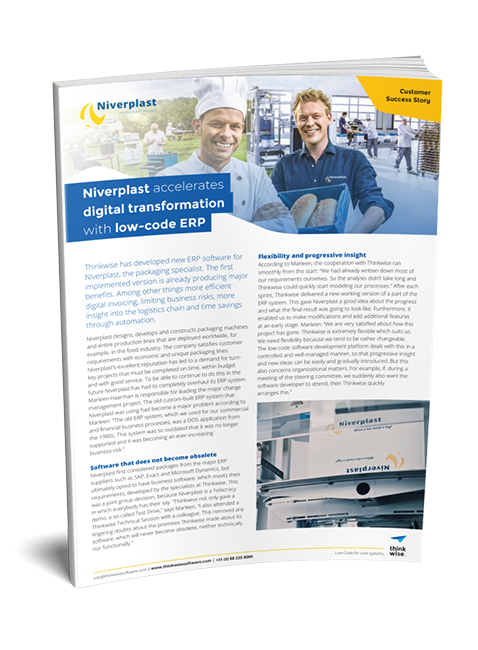 Time savings
Time saving through automation
Digitalization
Used to send invoices by post and now this is done automatically and digitally by mail
Integration
The system is integrated with Exact's accounting package.
Functionality
Good overview because we can store more information within our orders.
TESTIMONIALS
What Niverplast says about working with Thinkwise:
All in all, the entire ERP system will be completely revamped within a few years with the help of Thinkwise, so that we no longer have to worry about the business processes and can move forward at full steam.
I also went to a Thinkwise Technical Session with a colleague. That removed all doubt about Thinkwise's promises of non-aging software, both technical and functional.
The #1 low-code platform for core systems