CUSTOMER CASE: JP Database Solutions
JP Database Solutions modernized its legacy solution for the construction and installation industry
When JPDS was founded in 2005, there was still very little standard software available that provided purchasing guidance for construction companies during major building projects and serial housing construction. JPDS decided to fill this gap in the market.
When further development of the existing software development environment was discontinued, they decided to recreate the software using the Thinkwise Platform.
Fill out the form to receive the full customer case, or read the highlights of our collaboration below.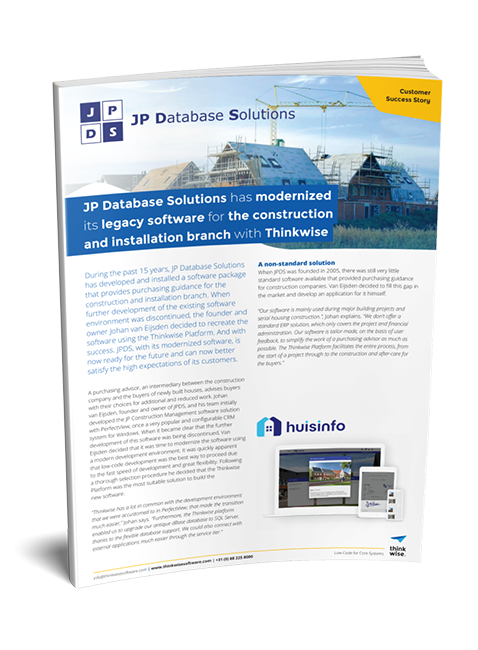 KEY TAKEAWAYS
JP Database Solutions
Complete Purchase Guidance Solution
The application facilitates the entire process, from the start of a project through to the construction and after-care for the buyers.
Rapid Time-To-Market
After a jumpstart by Thinkwise Experts, JPDS completed the entire software package step by step in the Thinkwise Platform within one year.
Database upgrade
The Thinkwise Platform enabled JPDS to upgrade their antique dBase database to SQL Server, thanks to the Upcycler and flexible database support.
TESTIMONIALS
What JP Database Solutions says about working with Thinkwise:
The #1 low-code platform for core systems