CUSTOMER CASE: HH-IT
HH IT Services delivers a specialized low-code project management solution
The software company HH IT Services uses the Thinkwise Platform to deliver solutions to companies for digitizing their operational processes. Due to the high time pressure associated with large-scale projects, there is often no time available to immediately provide project teams with a fully integrated IT environment. To address this gap in the market the SmartTeam Toolkit was developed. A user-friendly project management platform in the cloud, that combines all operational processes, information, and communication about a project in one shared web environment.
Since then, this specialized and extremely flexible project management platform has been used, among others, by Vattenfall for the construction of the largest wind park on land in the Netherlands.
Fill out the form to receive the full customer case, or read the highlights of our collaboration below.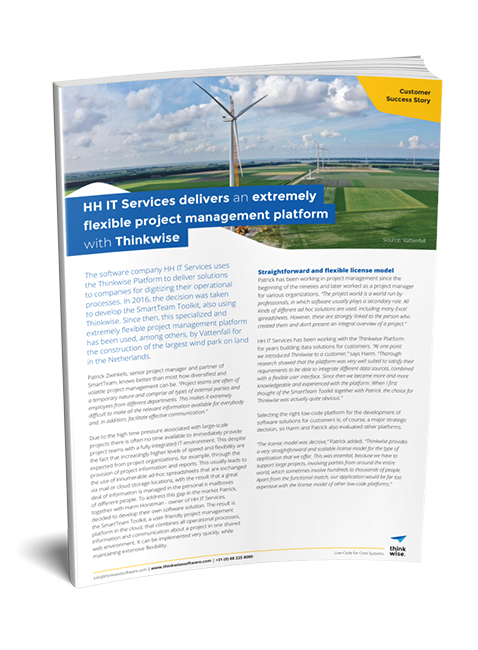 KEY TAKEAWAYS
HH-IT SERVICES
Fully integrated environment
SmartTeam offers project organizations a solution to integrate their traditional multitude of ad hoc systems in one robust data environment so that projects can be managed more efficiently and transparently.
Rapid Time-To-Market
HH IT Services was able to develop a beta version of SmartTeam within 6 months and deliver the full application within a year.
Cloud-based scalability
SmartTeam runs on Azure in the cloud, including the underlying SQL database. This allows the environment to be easily scaled up as needed, and made available to employees via a web application on all platforms.
The #1 low-code platform for core systems