CUSTOMER CASE: Dinz
Dinz automates the planning and administrative processes of healthcare professionals using low-code
Dinz is an IT service provider for the healthcare sector, which resulted from a collaboration between several organizations in the healthcare sector. The company delivers planning and administration software to independent care professionals, health care cooperations, and care providers.
DinZ opted for Thinkwise to modernize and expand its webbased application for its customers, in order to keep abreast of the latest developments in the care sector.
Fill out the form to receive the full customer case, or read the highlights of our collaboration below.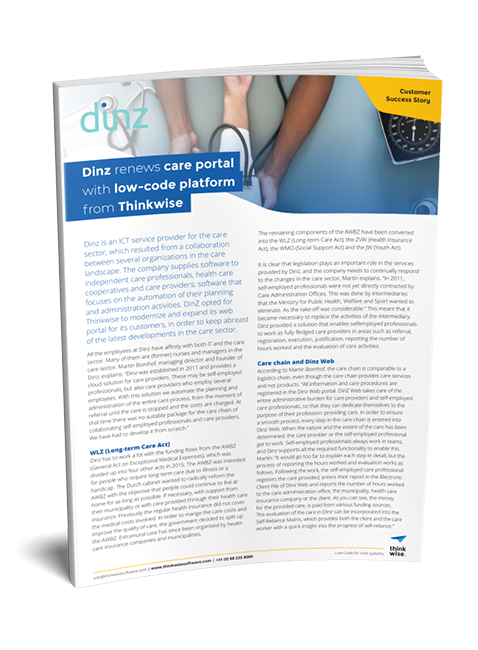 Supports over 1000 healthcare professionals
The application supports over 1000 self-employed healthcare professionals by automating the planning and administration of the entire care process.
Rapid Time-To-Market
Dinz was able to completely rebuild their application in the Thinkwise Platform and deliver it on Windows, Web and mobile devices within just 6 months.
Scalability
In the design of our data model they also took into account potential future customers, so that they are well prepared for future situations and are able to scale up their services.
The #1 low-code platform for core systems