CUSTOMER CASE: Acto
Acto develops the next generation ERP platform together with Thinkwise
For over 40 years Acto has been helping companies in the installation and construction industry to become successful with a self-developed ERP platform. In 2016 the company took the strategic decision to modernize its existing software solutions in phases with the Thinkwise Platform.
What was seen at that time to be a daring strategy is now bearing fruit and is giving Acto and its customers a considerable competitive advantage.
Fill out the form to receive the full customer case, or read the highlights of our collaboration below.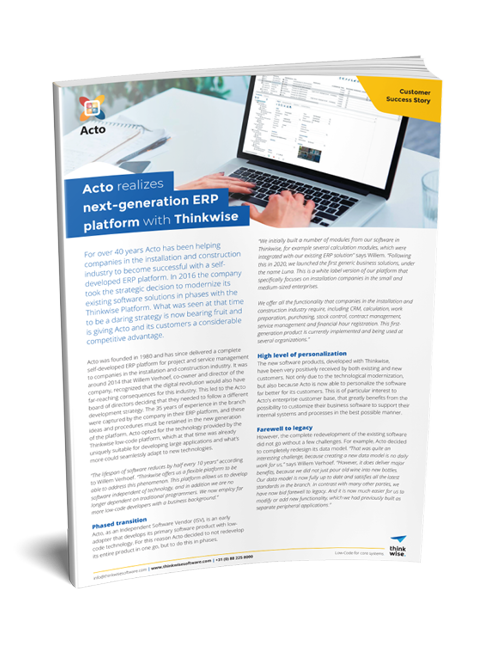 Farewell to legacy
By modernizing their solution using the Thinkwise Platform, Acto was able to bid farewell to millions of lines of legacy programming code, making their new solution far more flexible and easier to maintain.
Integrated processes
Using low-code, Acto can offer its customers a significant competitive advantage by deploying best practice industry models, complemented by specific functionality for processes that allow them to differentiate themselves from their competitors.
Less dependency on developers
Acto now employs a lot more young employees with a business background. They are able to train them very quickly, which is a tremendous improvement as they are now less dependent on the scarce availability of traditional developers.
The #1 low-code platform for core systems