CUSTOMER CASE: Xenos
Xenos modernizes its business applications with the Thinkwise low-code platform
Xenos, one of the largest chain stores in the Netherlands, is using the Thinkwise low-code platform to modernize its application landscape. This will allow the company to predict customer requirements and be faster in anticipating the changing demand. By replacing its legacy IT with a low-code solution, Xenos is laying the foundation for the future and will obtain greater value from data and the IT landscape.
Fill out the form to receive the full customer case, or read the highlights of our collaboration below.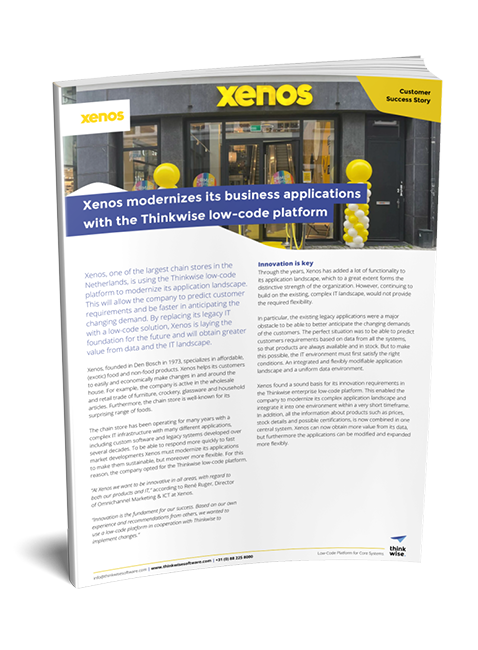 One central system
All the information about products such as prices, stock details and possible certifications, is now combined in one central system. Xenos can now obtain more value from its data, but furthermore the applications can be modified and expanded more flexibly.
A far more efficient organization
The replacement of the old application landscape by a simplified, modern and modifiable application landscape has resulted in a dramatic change within the Xenos organization. The IT environment can be managed more easily, various business processes have been optimized and responsibilities are clearly defined.
Competitive advantage
The modernized landscape can now offer an improved price-quality ratio and higher availability of products. The company has also gained real-time insights into its business data, allowing it to better deal with current developments.
The #1 low-code platform for core systems