CUSTOMER CASE: RC INFORMATICA
RC Informatica has modernized its legacy ERP solution using the Thinkwise Platform within six months.
RC Informatica is an Italian vendor of its self-developed ERP solution for the metals industry. The software, which was developed in RPG for AS/400 systems, was in dire need of replacement. The company chose the Thinkwise Platform to modernize the system and accomplished this independently and within just six months.
The new RC Informatica ERP solution is being implemented in phases for new and existing customers. A major benefit of Thinkwise in this respect is that it offers support to develop different application versions in parallel.
Fill out the form to receive the full customer case, or read the highlights of our collaboration below.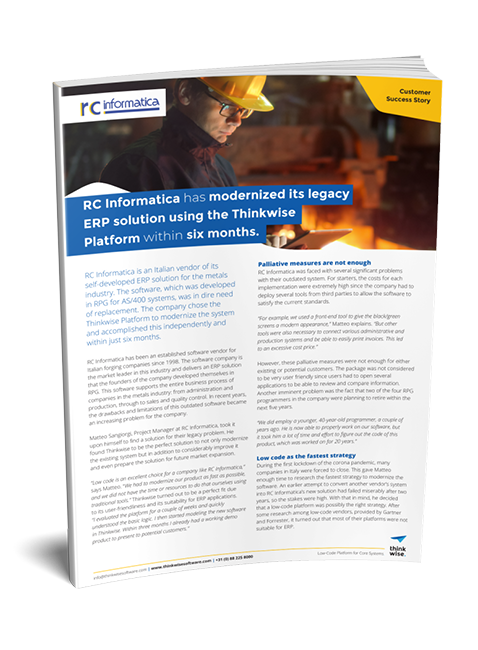 KEY TAKEAWAYS
RC Informatica
Working demo in six months
RC Informatica was able to streamline their application from 1000 to 150 tables and demonstrate a working demo to their customers within just 6 months.
Scalability
The platform makes it easy to manage and support personalized implementations per customer, reducing the complexity of maintaining the application.
Easy to learn
Compared to the 20 year old code base, which took even experienced programmers a lot of time and effort to get to grips with, the low-code model is easy to learn.
TESTIMONIALS
What RC Informatica says about working with Thinkwise:
The #1 low-code platform for core systems