CUSTOMER CASE: Olyslager
Olyslager used low-code to migrate its Lubricant Information System to the cloud
Olyslager specializes in providing data on lubricants for a multitude of vehicles and industrial equipment. By collecting and combining global data from oil producers and information from engine manufacturers, it can make recommendations for the correct lubricant.
The company has migrated its core system to the cloud using the Thinkwise Platform to increase efficiency and accelerate the introduction of new services to the market.
Fill out the form to receive the full customer case, or read the highlights of our collaboration below.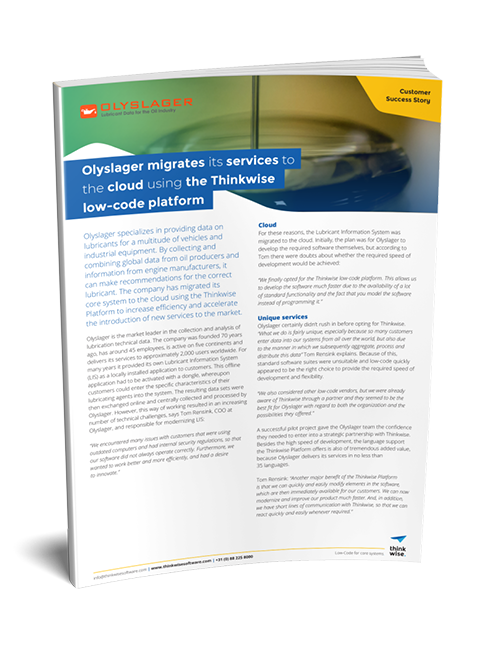 Cloud scalability
The new Low-Code LIS System operates entirely in the Microsoft Azure cloud. In this way, Olyslager can make its information available worldwide to over 2000 users worldwide without delays.
Rapid Time-To-Market
Benefiting from the standard functionality of the platform, Olyslager was able to redevelop the core of their application within 8 months.
Multi-Language support
Besides the high speed of development, the language support the Thinkwise Platform offers is also of tremendous added value, because Olyslager delivers its services in no less than 35 languages.
The #1 low-code platform for core systems