CUSTOMER CASE: Manter
Customer Succes Story – Manter International B.V.
Manter International in Emmen is a manufacturer of weighing and packaging machines for fresh potatoes, vegetables and fruits. Flexible, customer-oriented packaging solutions and exceptional service are the foundation for the Manter success. Manter was founded more than 21 years ago by Herman Wehkamp and Peter Lenferink and is now supplying worldwide to over 50 countries.
Fill out the form to receive the full customer case, or read the highlights of our collaboration below.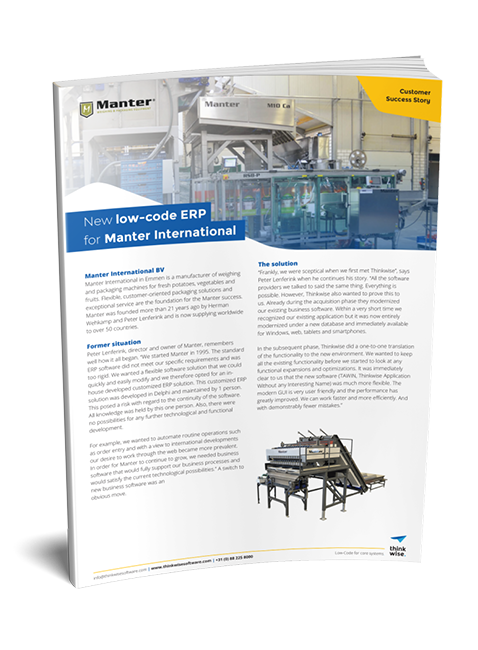 Speed
In a very short time, we saw our existing application back but completely modernized under a new database and readily available for Windows, web, tablets and smartphone.
Functionality
Thinkwise translated the functionality 1 to 1 to the new environment.
Improved performance
The modern GUI is very user-friendly and performance is greatly improved. Work is faster and more efficient. There are demonstrably fewer errors.
Management information always up to date
Immediate insight into the status of orders, current stock and orders.
TESTIMONIALS
What Manter says about working with Thinkwise:
"We can now continue to grow Manter with the same staff, whatever the future holds, the software always supports our plans. "
"The collaboration went beyond expectations. The project team, which included Thinkwise and Manter, shared knowledge and switched quickly during the implementation. We are impressed with the result and look forward to the future with confidence."
The #1 low-code platform for core systems