CUSTOMER CASE: JP Database Solutions
JP Database Solutions modernized legacy software with Thinkwise
During the past 15 years, JP Database Solutions has developed and installed a software package that provides purchasing guidance for the construction and installation branch. When further development of the existing software environment was discontinued, the founder and owner Johan van Eijsden decided to recreate the software using the Thinkwise Platform. And with success. JPDS, with its modernized software, is now ready for the future and can now better satisfy the high expectations of its customers.
Fill out the form to receive the full customer case, or read the highlights of our collaboration below.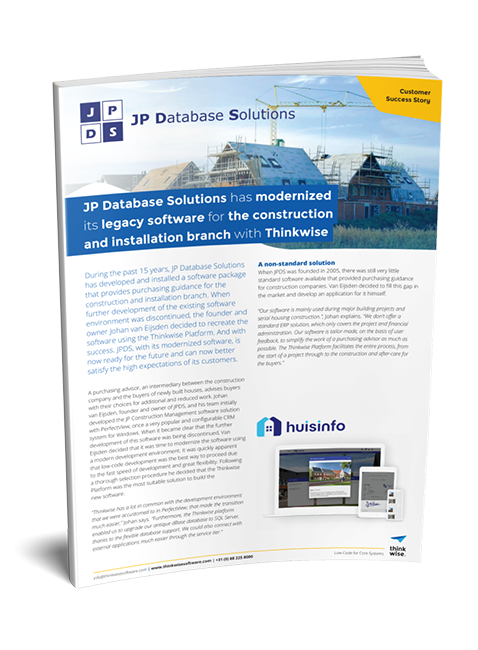 KEY TAKEAWAYS
JP Database Solutions
Development speed
The entire software package was built incrementally within a year in the Thinkwise Platform.
Database upgrade
DBase database upgrade to SQL Server courtesy of flexible database support.
GUI
Quieter look and feel using Thinkwise's Universal GUI.
TESTIMONIALS
What JP Database Solutions says about working with Thinkwise:
"Our software is mainly used during major building projects and serial housing construction.", Johan explains. "We don't offer a standard ERP solution, which only covers the project and financial administration. Our software is tailor-made, on the basis of user feedback, to simplify the work of a purchasing advisor as much as possible. The Thinkwise Platform facilitates the entire process, from the start of a project through to the construction and after-care for the buyers."
"During the course it was clear that we wanted to use this low-code solution for the redevelopment of our software. In addition, it turned out that all the functionality could be transferred almost one-for-one to Thinkwise."
The #1 low-code platform for core systems