CUSTOMER CASE: IT Partner
IT Partner accelerates the development of their port logistics software with low-code
IT Partner is a successful internationally operating software company, which specializes in the automation of the port logistics sector. The company opted for Thinkwise to accelerate projects for its customers and create a future-proof foundation for its software development.
Fill out the form to receive the full customer case, or read the highlights of our collaboration below.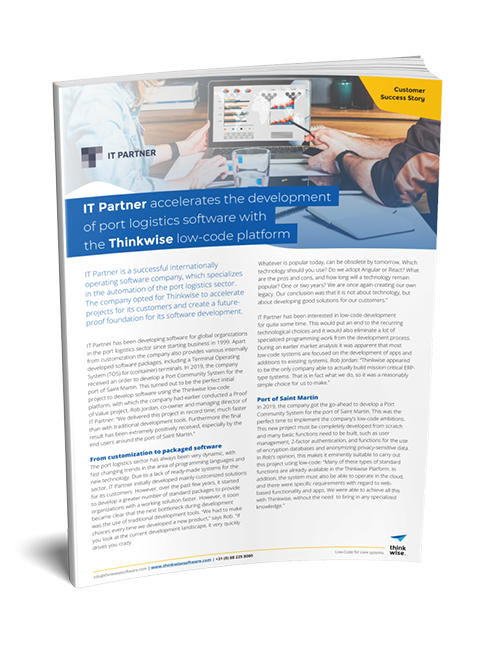 Complete Port Community System
The newly developed solution offers user management, two-factor authentication, and functionality for the use of encryption databases and anonymizing privacy-sensitive data.
Rapid Time-To-Market
Directly following a Proof of Value, the project for the port of Saint Martin started and IT Partner was able to deliver a working system in the cloud within 6 months.
Less dependency on traditional developers
With low-code, IT Partner's developers are far less dependent on specialized programming knowledge. Their added value is understanding the idea behind an application, being able to think through business processes, and come up with creative solutions.
The #1 low-code platform for core systems