CUSTOMER CASE: Dinz
Dinz innovates care portal with software platform from Thinkwise
Dinz is an IT service provider for the care sector, which resulted from a collaboration between several organizations in the care landscape. The company supplies software to independent care professionals, health care cooperatives and care providers; software that focuses on the automation of their planning and administration activities. DinZ opted for Thinkwise to modernize and expand its web portal for its customers, in order to keep abreast of the latest developments in the care sector.
Fill out the form to receive the full customer case, or read the highlights of our collaboration below.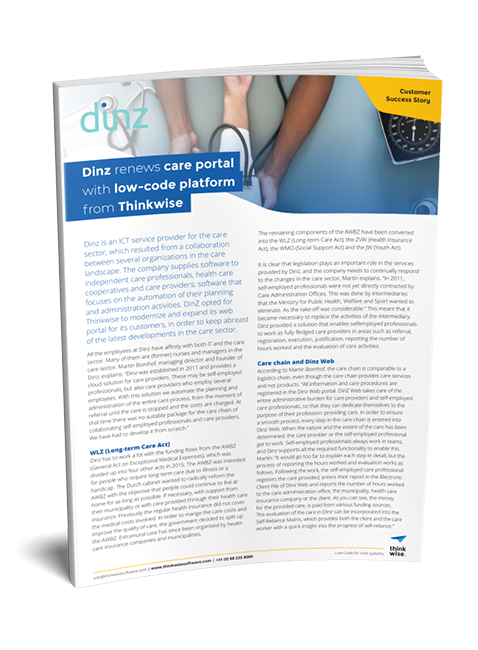 Dinz Web Platform
A platform that can move flexibly with the rapidly changing healthcare sector.
Development speed
Completely rebuilt the Dinz environment within six months with Thinkwise developers.
Cloud
The Dinz Web Platform runs entirely in the Cloud.
TESTIMONIALS
What Dinz says about working with Thinkwise:
"I strongly believe in Thinkwise's low-code model-driven approach. It allows you to develop flexibly and rapidly and the software is built in small manageable modules. So you don't have to wait long for the implementation of new features. "
"What's good about Thinkwise is, that it keeps our software platform future-proof."
The #1 low-code platform for core systems