CUSTOMER CASE: BAS Holding
BAS Holding rapidly developed a low-code Fleet Management application
BAS is a trading company and service provider that provides solutions to transport companies worldwide, allowing these companies to better deal with the dynamics of the international transport sector. The company opted for the Thinkwise Platform in 2012 to develop a fleet management application and is currently carrying out several new software projects with the platform.
Fill out the form to receive the full customer case, or read the highlights of our collaboration below.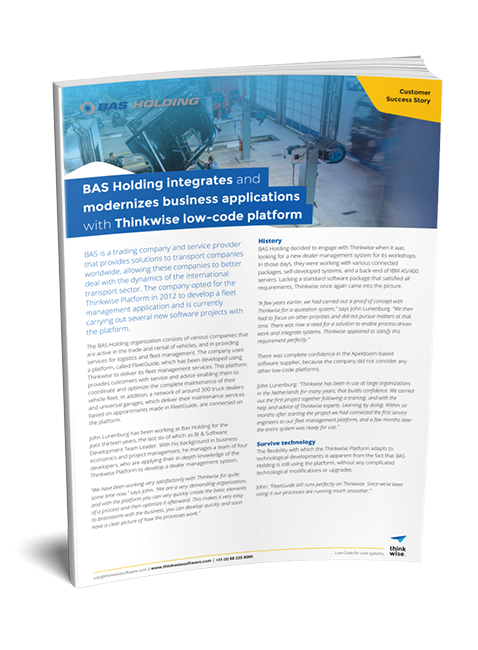 KEY TAKEAWAYS
BAS Holding
Connects over 300 dealers and workshops
FleetGuide offers a solution in which customers and value chain partners can coordinate and optimize the complete maintenance of their vehicle fleets.
Rapid time-to-market
Within six months after starting the project they connected the first service engineers to the fleet management platform, and a few months later the entire system was ready for use.
Scalability
After full deployment in the Netherlands, the application will be rolled out to Germany and extended with all their logistic and commercial processes.
The #1 low-code platform for core systems