What does the future look like for software vendors & system integrators?
---
The Dutch software industry
The IT industry has grown over the past two decades into a large and important sector. The market is changing rapidly and there are many new upcoming business areas with new revenue models. But what does the future hold for the IT sector?
Even though the IT industry is a large sector, little is known about its content. For example, where is the growth mainly taking place, where are the opportunities or the challenges? A recent study by ABN AMRO has outlined the developments in the IT sector.
In this article, we will focus on the role of software vendors and system integrators within the IT industry. What does the future of these companies look like and what are the most important developments?
The market of system integrators & software vendors
Although the IT industry is growing fast, not all companies within the industry are as optimistic about the future. The tech and internet companies, companies that operate mainly online, are the most optimistic about the future. A large majority (80%) of tech companies expect their revenues to grow significantly in the coming years.
The least positive about the future are the system integrators and software vendors. Slightly more than 50% of the software companies expect their revenue to grow in the coming years. This percentage is even lower for system integrators, where only 40% expect to increase their turnover in the coming years.
This major difference in optimism may be explained by the fact that system integrators and software companies exist far longer than, for example, tech and internet companies. In addition, the shift to the cloud has (had) a great influence on the business model of many software companies. They have to make large investments to be able to keep up with this shift, while young tech companies without the ballast of the past benefit from it. Another factor is that the business model of many software companies is difficult to scale; for these companies, business growth also means an increasing demand for more staff and thus rising costs.

Developments in the market of software companies
Everything becomes software
The shift from hardware to software has become increasingly visible in the past few years and is likely to continue. The pandemic has also contributed to this. The many people working from home have caused us to go from hardware-based IT to software-driven solutions.
Furthermore, we see that organizations choose to automate computing, storage and networking more often with smart software and no longer by the hardware components. In the future, organizations will increasingly opt for new technologies that provide flexibility, insight and performance. As a software company, it is important to be able to anticipate this.
Staff shortage hinders growth, but not optimism
The large staff shortage has been a challenge in IT for some time. In 2020, the pandemic temporarily ensured that the shortage was not seen as an obstacle for growth. However, by 2021 it had returned to its previous level and is a major limiting factor for many software vendors. The demand for IT professionals continued to rise in 2021. According to the IT Labour Market Monitor by recruitment agency Hello Professionals, 39.246 IT vacancies were posted online in 2021, compared to 30.422 in 2020.
A study carried out by ING at the end of 2021 showed that 43% of IT businesses said that the shortage of staff was actually holding back growth. However, they remain optimistic and a majority (56%) believe they will be able to expand their workforce in 2022, despite the shortage in the labour market.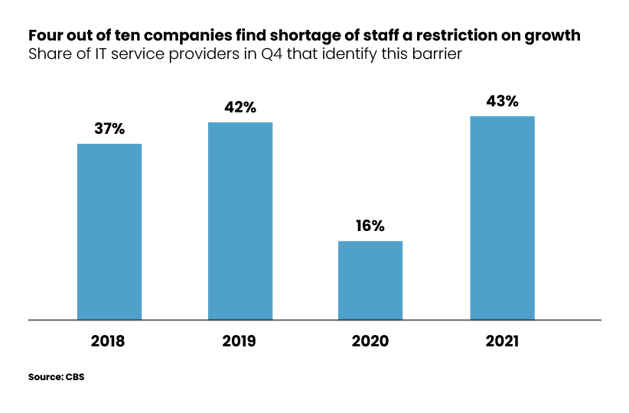 The number of acquisitions continues to rise in 2022
The Dutch software industry is in a state of flux. The number of takeovers in this sector has been rising for years. Gartner expects that in 2022 mergers and acquisitions in which software companies are involved will already exceed the peaks reached before the coronary crisis.
Also, the consolidation in the IT industry continues. According to CBS, the number of mergers and acquisitions in the first nine months of 2021 was almost a quarter higher than in the same period in 2020.
Private equity firms seem to be particularly interested in investing in software vendors. In 2020, they were responsible for almost half of the takeovers. These private equity parties are creating software companies with more scale in the market. For instance, various players are bought up and merged, each delivering their own specific solution in a particular sector. For example, an order portal, customer management and personnel management. This should ultimately result in a platform that can compete with the major suppliers in a market.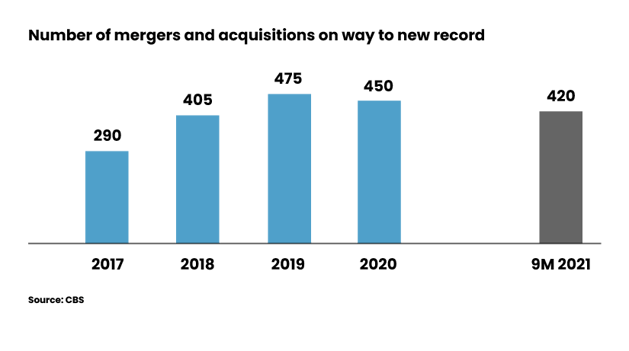 Take your IT services to the next level
All developments in the market have a major impact on software companies. Agility and anticipation of new opportunities are a challenge for many traditional software companies and system integrators.
If your organization has difficulty in adopting new techniques such as cloud computing and your competitor does take advantage of this, they will catch up with you. On the other hand, it can also happen that various mergers result in new competitors.
The market is constantly changing, and scalability and agility are crucial for a software company. So how do you ensure that you can grow, while a large part of the market does not expect growth? Sounds almost impossible, yet there are several Dutch software companies who are doing it.
Achieve a strategic advantage with low-code
The ability to respond to market developments is essential in this digital age. Software should not be an obstacle but a driver for process improvement and innovation.
Low-Code helps you as a company to be and remain agile and scalable. With low-code it is possible to define software in a graphical way instead of programming millions of lines of code. This makes it possible to realize applications that exactly match the way your company works, at a manageable and fast pace.
My application is too complex for low-code
The Thinkwise Low-Code Platform is specially designed for the realization of large and complex applications. Whereas other low-code platforms are used to develop apps and solutions that are supplementary to an ERP system, the Thinkwise Platform is capable of completely replacing core systems.
Take a look at how other Dutch software companies ensure that they are agile and scalable within the market:
"Thinkwise provides us with the means to develop the most perfect ERP Software. [..] We can now develop many times faster and at significantly lower costs than before. This gives both Acto and our customers a competitive advantage."
Director Acto Informatisering - Willem Verhoef