LEGACY RENEWAL FOR CORE SYSTEMS
IT & Business Architects
When working with outdated core systems, there comes a point when you will be unable to keep up with the demands of the business. Around 80 percent of a development team's time is spent maintaining legacy ICT. Only 20 percent is left over for much-needed innovation. On top of that, working with outdated systems requires specialized developers who are hard to find.
Meet Thinkwise; a low-code platform specially developed for complex business-critical systems. Not only suitable for companies with their own development team, but also for software vendors and system integrators who develop and deliver software to their own markets!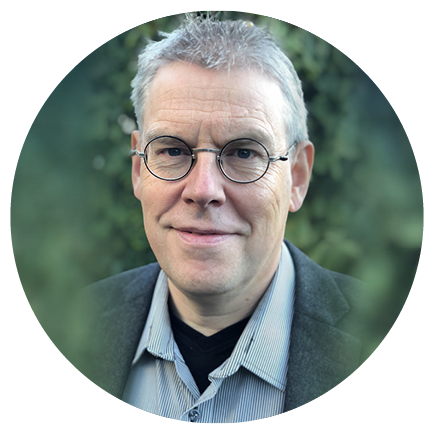 Design core applications
Thinkwise is the only low-code platform specialized to handle large, complex applications. Think thousands of users, millions of records and deployment across multiple contintents.
Reuse existing parts
Use the Thinkwise Upcycler in the migration process to reuse existing data, processes and UI elements to ensure a smooth transition from your legacy systems.
Deliver solutions 10 times faster
Independent research shows that Thinkwise offers the highest productivity of any low-code platform. Deliver solutions 10 times faster compared to your current workflow.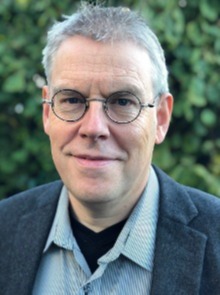 What our customers say:
" If you load a data model with Thinkwise, the user interface is practically already done. This enables employees to immediately see the results and indicate what we can improve. This is a valuable addition compared to just drawing up a requirements document. "
- Edwin Saan, Business Architect at Royal Saan
Suitable for core applications
Unlike other low-code platforms, we offer the only low-code platform that specializes completely on complex core applications. These include mission-critical ERP, WMS, and MRP systems with hundreds of database tables. The platform is used in numerous projects for modernizing legacy applications of various technologies, including COBOL, RPG and Uniface.
You will be able to modernize the largest core applications in record time. We even guarantee that you will successfully replace legacy applications within 12 months.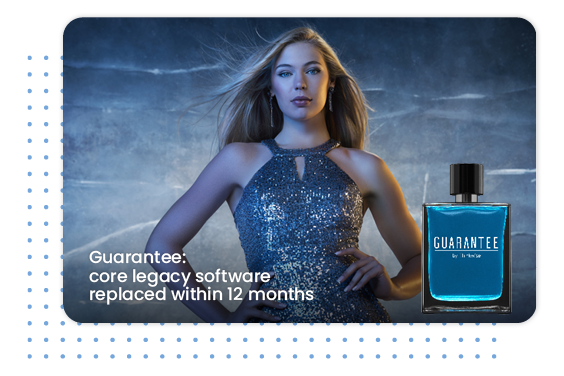 Unique Upcycler technology
Our Upcycler enables you to reuse your existing data, processes and UI elements during the migration process. This means that usable elements from the old application (such as work processes and screen elements) can be carried over as desired. This will kickstart the development process.
The Upcycler supports over 50 legacy technologies such as RPG, COBOL, Oracle, Uniface, and many more. But more recent technologies such as Salesforce and Microsoft Dynamics or even other low-code platforms can also be automatically read into Thinkwise as well.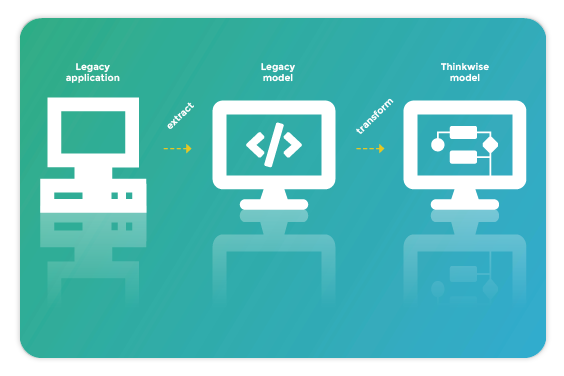 Deliver solutions 10 times faster
Development lead times will be at least 10 times faster compared to a previous situation. The increase in productivity over traditional programming languages such as C# or Java is unprecedented, even compared to other low-code platforms. This has been established by independent research from research firm QSM.
Because its possible to model the software, you will no longer need to write millions of lines of code. As a result, the focus of your development team can shift from maintenance to innovation.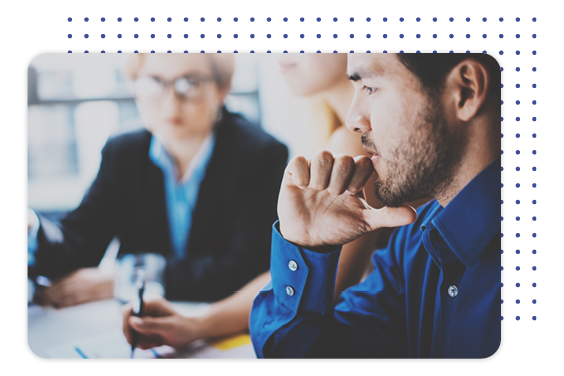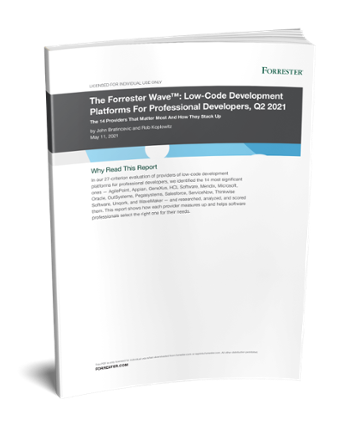 Get your free copy of the Q2 2021 Forrester report on the 14 vendors that matter most in the low-code vendor market.
Model your own low-code enterprise software
Greatly boost your software development productivity and seamlessly convert new propositions or business processes into tailored solutions.
Thinkwise makes traditional software development challenges a thing of the past. The platform provides an enormous increase in the productivity of your development team, up to a factor of 10 compared to traditional software development. Only minimal technical expertise is required. And you prevent future legacy systems because the software will never become out of date!
The #1 low-code platform for core systems