LEGACY RENEWAL FOR CORE SYSTEMS
Developers
When working with outdated core systems, there comes a point when you will be unable to keep up with the demands of the business. Especially in markets with rapid changes, the workload will increase and backlogs will grow rapidly. The emergence of no-code and low code platforms may seem to offer a solution. But in practice, these are generally not suitable for the more complex and extensive applications that an experienced developer has to work with.
Meet Thinkwise; a low-code platform that lets you build complex enterprise applications that always stay technologically up to date. A platform that is ideally suited to leveraging your expertise. Combine modeling with complex business logic to create applications that perfectly support your company's processes!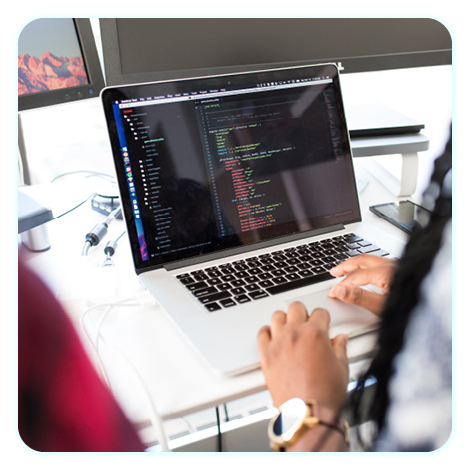 Reuse existing parts
Use the Thinkwise Upcycler in the migration process to reuse existing data, processes and UI elements to ensure a smooth transition from your legacy systems.
Catered to your expertise
Low-code for core systems is a perfect fit for your expertise as a developer. Having high-code skills will definitely come in handy and you can continue to apply them.
Develop 10 times faster
Independent research shows that Thinkwise offers the highest productivity of any low-code platform. Develop applications 10 times faster compared to your current workflow.
What our customers say:
" Thanks to Thinkwise's flexible development platform, we were able to effortlessly modernize an application that was more than 10 years old, without having in-depth knowledge of the past in order to then continue to innovate. A smooth progression of success and growth."
- Kevin Rosink, Consultant Digital Transformation at Incentro
Unique Upcycler Technology
Our Upcycler enables you to reuse your existing data, processes and UI elements during the migration process. This means that usable elements from the old application (such as work processes and screen elements) can be carried over as desired. This will kickstart the development process.
The Upcycler supports over 50 legacy technologies such as RPG, COBOL, Oracle, Uniface, and many more. But more recent technologies such as Salesforce and Microsoft Dynamics or even other low-code platforms can also be automatically read into Thinkwise as well.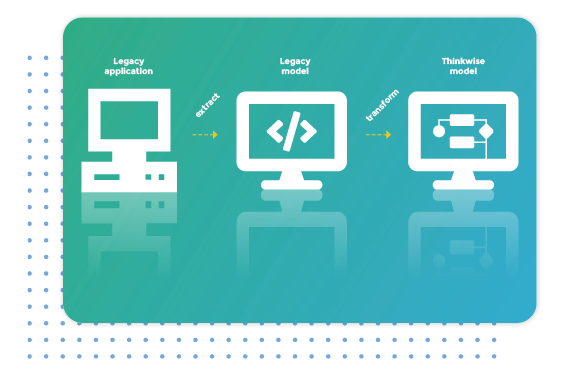 Boosting your expertise
As a professional developer, Thinkwise is the platform most specifically catered to your expertise, rather than other low-code platforms that are more aimed at citizen development. Repetitive and predictable things no longer need to be programmed because they are solved by modeling the software.
Coding is still an important part of the job, but only when complexity or performance makes it necessary. Thanks to the unprecedented productivity of the platform, you can eliminate backlogs at breakneck speed and are freed to fully support the business with your development skills.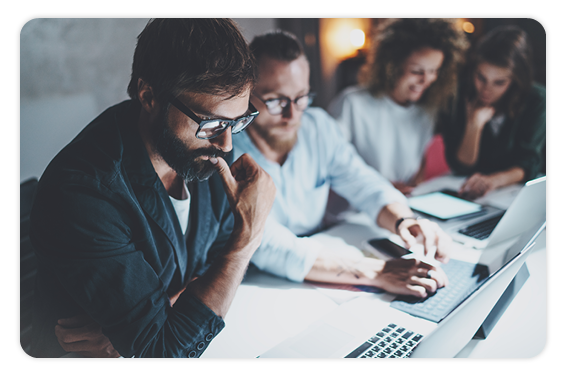 Rapidly eliminate backlogs
Development lead times will be at least 10 times faster compared to a previous situation. The increase in productivity over traditional programming languages such as C# or Java is unprecedented, even compared to other low-code platforms. This has been established by independent research from research firm QSM.
Because its possible to model the software, you will no longer need to write millions of lines of code. As a result, the focus of your development team can shift from maintenance to innovation.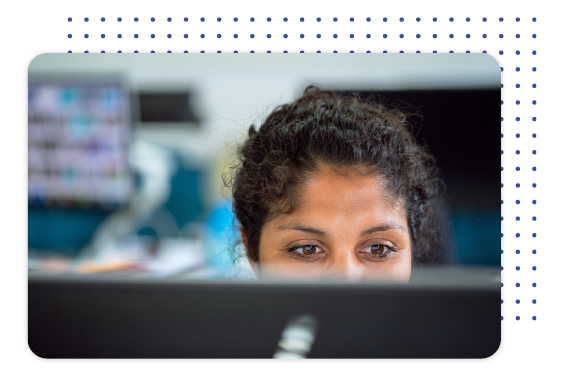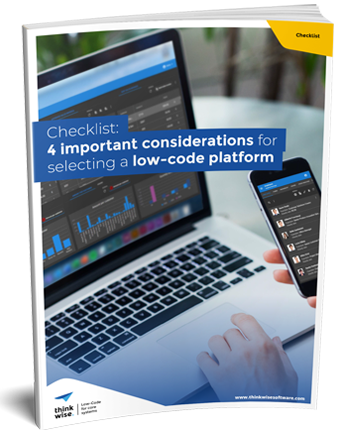 Get your free copy of our checklist on how to select a low-code platform suited for your usecase!
Say goodbye to time-wasting, boring repetitive programming
Take full advantage of your problem-solving experience through modeling your own low-code enterprise software.
Greatly boost your productivity and burn your backlogs in no-time. Seamlessly convert new propositions or business processes into tailored solutions.
The #1 low-code platform for core systems