CUSTOMER CASE: WILA
WILA supports growth and innovation with low-code
WILA is a leading manufacturer of tool systems for press brake machines. As one of the very first Thinkwise users, WILA has been working with the platform, which supports its entire business process, for over ten years.
Previously, operational management was supported by an in-house developed ERP system. Unfortunately, this system required a lot of manual input and left much to be desired in terms of ease of use. With Thinkwise they can focus purely on what they are good at, because the software optimally supports their processes.
Fill out the form to receive the full customer case, or read the highlights of our collaboration below.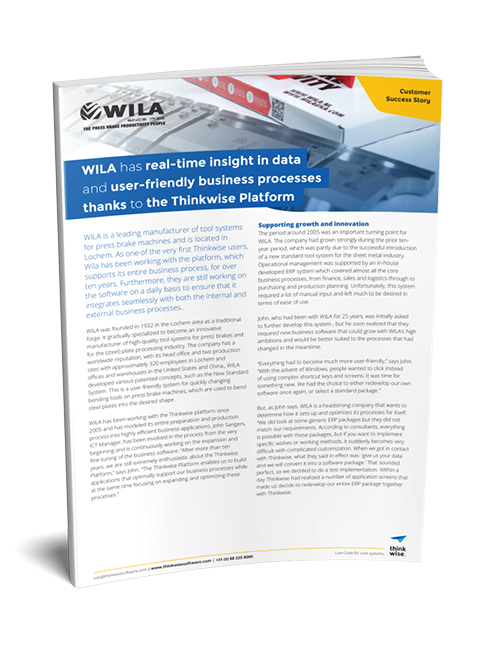 Complete Low-Code ERP
The application supports the entire WILA logistics process, including integration with the webshop. In the webshop, customers can order products online and even configure customized products with a product generator.
Rapid Time-To-Market
Within a year and a half, WILA built a new version of their legacy software package, including all the existing functions, from finance, sales, and logistics through to purchasing and production planning.
Scalability
The American and Chinese branches are now also working with Thinkwise. All their purchasing is processed automatically through the system, from orders to production and delivery.
The #1 low-code platform for core systems