CUSTOMER CASE: Olyslager
Olyslager migrates its services to the cloud using the Thinkwise low-code platform
Olyslager specializes in providing data on lubricants for a multitude of vehicles and industrial equipment. By collecting and combining global data from oil producers and information from engine manufacturers, it can make recommendations for the correct lubricant. The company has migrated its core system to the cloud using the Thinkwise Platform to increase efficiency and accelerate the introduction of new services to the market.
Fill out the form to receive the full customer case, or read the highlights of our collaboration below.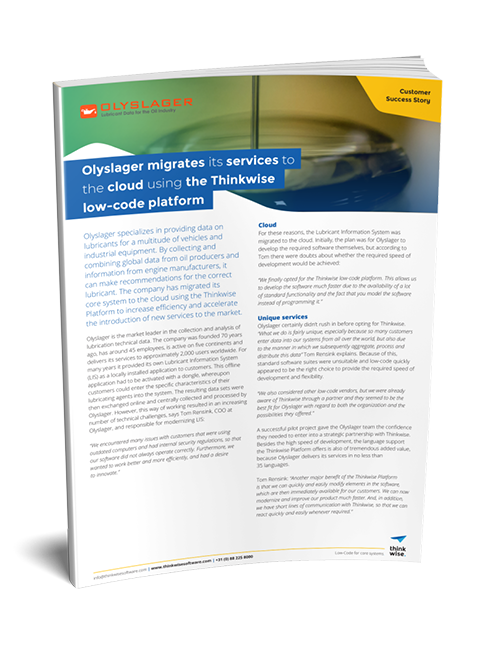 Cloud
In the new situation, the LIS System operates entirely in the Microsoft Azure cloud. In this way, Olyslager can make its information available worldwide without experiencing delays.
Innovation
With the Thinkwise Platform, Olyslager can innovate faster and deliver new features and processes in the product directly to its customers.
Language support
Services are offered in as many as 35 languages via the Thinkwise Platform.
TESTIMONIALS
What Olyslager says about working with Thinkwise:
"We finally opted for the Thinkwise low-code platform. This allows us to develop the software much faster due to the availability of a lot of standard functionality and the fact that you model the software instead of programming it."
"Thinkwise is an informal and open company. The people are easy to approach and they work on their product with great pride. They work closely with you as the customer and strive for success. I really see Thinkwise as a partner that became vital for our primary product."
The #1 low-code platform for core systems