CUSTOMER CASE: HH-IT
HH IT Services delivers a project management platform with Thinkwise
The software company HH IT Services uses the Thinkwise Platform to deliver solutions to companies for digitizing their operational processes. In 2016, the decision was taken to develop the SmartTeam Toolkit, also using Thinkwise. Since then, this specialized and extremely flexible project management platform has been used, among others, by Vattenfall for the construction of the largest wind park on land in the Netherlands.
Fill out the form to receive the full customer case, or read the highlights of our collaboration below.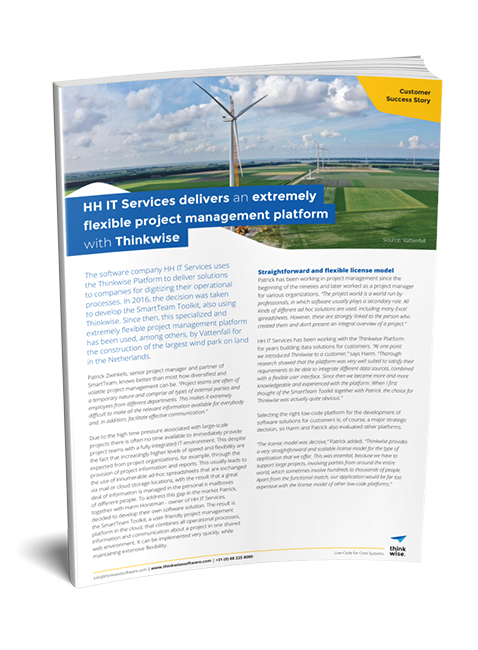 Multi-grid interface
For easy display of lists and overviews for the different users in the project environment.
Development speed
In six months the first beta version of the application ready.
Cloud
SmartTeam runs on Azure in the cloud, including the underlying SQL database. This allows the environment to be easily scaled up as needed, and made available to employees via a web application on all platforms.
TESTIMONIALS
What HH-IT says about working with Thinkwise:
"Thinkwise provides a very straightforward and scalable license model for the type of application that we offer. This was essential, because we have to support large projects, involving parties from around the entire world, which sometimes involve hundreds to thousands of people. Apart from the functional match, our application would be far too expensive with the license model of other low-code platforms."
"Thinkwise is a very accessible and friendly company to work with."
The #1 low-code platform for core systems