Cuddly bunnies put a smile on the faces of seriously ill children
---
The Thinkwise Foundation supports Stichting De Knuffelkonijntjes with a donation of 1,000 Euros. Stichting De Knuffelkonijntjes visits seriously (terminally) ill children throughout the Netherlands with specially trained cuddle rabbits. Through cuddling the bunnies, they get to forget their worries and illness for a moment. With this donation, they can visit 20 seriously ill children throughout the Netherlands with the rabbits.
"We are extremely happy with this donation," said René te Wierik, founder of Stichting De Knuffelkonijntjes. Contact with our rabbits provides relaxation, distraction, and joy to the children. The children get a moment to enjoy themselves and laugh again."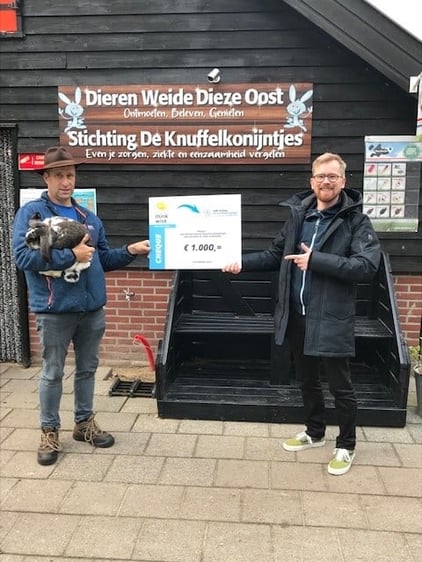 René te Wierik of Stichting De Knuffelkonijntjes accepts the cheque from Bart Metselaar on behalf of the Thinkwise Foundation.
About Stichting De Knuffelkonijntjes
Stichting De Knuffelkonijntjes is an official ANBI Foundation that has taken over the animal pasture at the Hogenkampsweg 27 in Zwolle since May 2020. With the cuddle bunnies they visit among others seriously ill children, demented elderly, schools for special education and institutions for patients with mental disabilities.