CUSTOMER CASE: VSH Tech
VSH Tech becomes a development partner and takes its own range of logistics software products to the cloud with Thinkwise
VSH Tech is a software company with locations in the Netherlands and Suriname. The company develops and delivers logistic software for the shipping industry and is modernizing its existing legacy software products with the Thinkwise low-code platform. In addition, the company has become a Thinkwise Partner to enable it to provide its customers with customized solutions.
Fill out the form to receive the full customer case, or read the highlights of our collaboration below.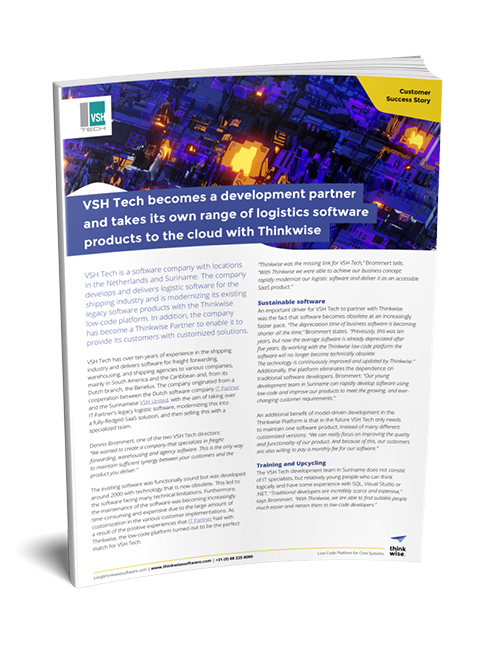 Sustainable software
By working with the Thinkwise low-code platform the software will no longer become technically obsolete. The technology is continuously improved and updated. Additionally, the platform eliminates the dependence on traditional software developers.
Fast implementation
Using Thinkwise, the VSH Tech Team was able to have its freight forwarding and warehousing applications ready for implementation at the first customers within a year. It is expected that a modernized version of the agency product will also be delivered within another year.
Maintain one software product
A benefit of model-driven development in the Thinkwise Platform is that in the future VSH Tech only needs to maintain one software product, instead of many different customized versions. VSH tech can now really focus on improving the quality and functionality of their product.
The #1 low-code platform for core systems