"Lower Saxony LowCode-Pioneer Award" for IT providers Compra and Thinkwise
---
The future "Smart City Hildesheim" promoted by the federal government and the state of Lower Saxony is undoubtedly one of the most ambitious municipal pilot projects of its kind in Germany at this time. This is also emphasized by the "Lower Saxony LowCode-Pioneer Award" presented by the Lower Saxony State Secretary for Economic Affairs, Stefan Muhle to the IT service provider Compra and the Dutch software provider Thinkwise on 25 November 2021.
On this day, the state of Lower Saxony organized its first low-code summit under the motto "Digital transformation on a Sunday afternoon!", during which in just four hours by way of a hackathon, three prototypes had to be developed for the digitalization of three different, clearly defined processes from the administrative practice, which are called "specialist processes" in official German. The organizer of the event emphasizes on its website that with this summit the Ministry of Economic Affairs of the federal state of Lower Saxony "wanted to send a clear signal that digital transformation can, and must, be fast and uncomplicated". (https://digitalagentur-niedersachsen.de/low-code-summit-2021)
During the Lower Saxony digital conference "Techtide" (www.techtide.de), which took place as a hybrid event on 1 and 2 December, the State Secretary for Economic Affairs Stefan Muhle presented the award to the two hackathon participants Compra and Thinkwise for the IT solution that they developed during the summit for the city of Hildesheim. This concerns a special permit system for placing dumpsters that was digitalized by the two IT companies. The prototype, in the form of a web application and a mobile app, meets the specific requirements of the municipality. Hildesheim's Smart City representative, Fabian Wächter, showed his appreciation of the convincing result: "I can't believe my eyes, I would like to continue developing this application for a few more hours and then actually start using it".
This comparatively small IT application was built using the powerful low-code platform developed by software provider Thinkwise for modeling the business transformation of much larger and more complex core IT systems. The technology developed by the Dutch company is leading in the higher market segment of ERP and other business-critical systems.
Lower Saxony wants to demonstrate with the Low-Code Summit, its pioneering role among the German federal states with regard to low-code technology. A claim that is also underlined by the Lower Saxony Low-Code initiative, which was launched by the Lower Saxony digital agency and the digital transformation department of the Lower Saxony Ministry of Economics, Labor, Transport and Digitization at the end of 2020. (https://digitalagentur-niedersachsen.de/low-code-land-niedersachsen)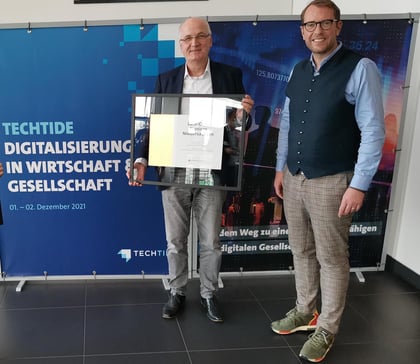 Frank Wuttke, Managing Director of COMPRA GmbH (Team Hildesheim) with State Secretary Stefan Muhle during the award ceremony..